Doctors and healthcare professionals need to focus on using online marketing to advertise and promote their specialized services. Creating awareness for healthcare facilities can be a daunting task, especially if you lack prior online marketing skills, have new competitors, lack enough funds, or have a poor reputation. 
As the internet keeps growing each day, people are looking for information on how to improve their health, fitness, and wellness. This means, just like any other online business, online marketing for healthcare industry is an important awareness strategy that helps attract new patients while retaining the current ones.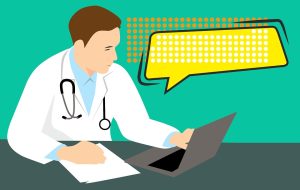 Here are 5 reasons why online marketing is important for the healthcare industry:
1. Increased Reach
Online marketing lets the healthcare industry increase its audience reach through social media, search engine marketing, and mobile marketing. This means that healthcare providers that use online marketing techniques like website optimization get to reach out to more people since they rank higher in search engine results. Social media also plays an important role in helping hospitals and healthcare providers reach out to more customers. Research shows that over 90% of healthcare patients trust social media and recommendations from family and friends more than other forms of online marketing.
2. Cost-effective
Small hospitals and other healthcare providers that operate on a tight budget are always looking for ways to market themselves without spending a lot of money. In the early days, marketing was mainly done through print ads, TV ads, radio spots, direct mails, and billboards. All of these means of advertisement came with hefty price tags that only a few healthcare facilities and businesses could afford. However, today's online marketing is less expensive because the ability to share information, discover and connect to people has become quite simple.
3. Personalized Information
Online marketing enables healthcare facilities to personalize their information and offers through building their profile, letting people know what they offer, preferences, and medical service history. If experts in the healthcare industry research by tracking website pages and social media most searched healthcare information, they can make offers that address the interests of the majority of their target market. The information collected will also help healthcare facilities plan for online campaigns in order to increase market value and reach.
4. Builds Relationship with Customers
The internet, especially social media, offers an important platform for healthcare facilities to build a strong relationship with customers. In turn, this increases customer retention while new one increase due to referrals and increased awareness. If a customer receives quality service from a given hospital, he/she is likely to refer others to the safe hospital in the future. Therefore, keeping close contact with your patients through emails follow-up and social media will ensure your relationship with them will always be maintained.
5. Brand Recognition
One of the best ways healthcare facilities can build strong brand recognition is through excellent customer service. The goal of branding is to make new clients come to your hospital with the assertion that you are the best on the market. With this, they will also recommend your services to others in the future, hence continued growth and recognition of your brand.