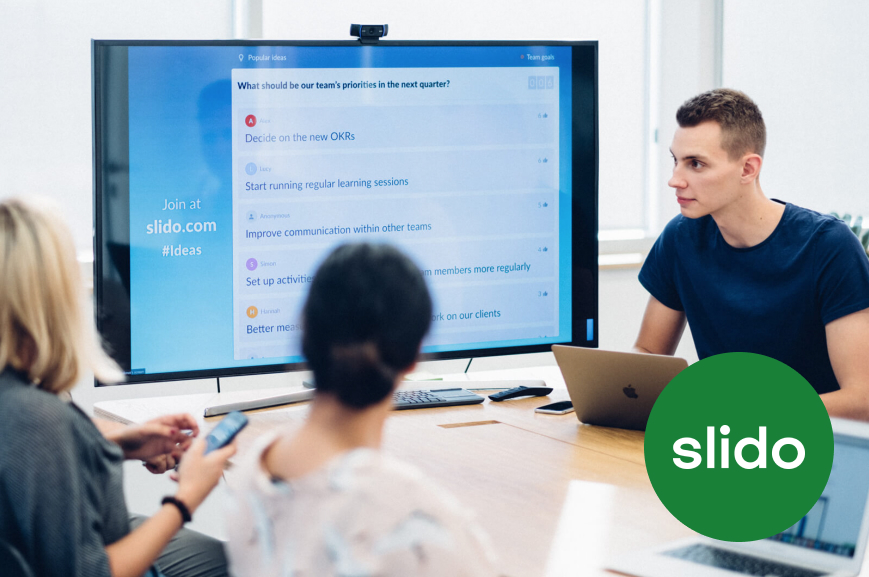 Case study: The impact of competitive analysis on Slido's conversions and activation
Learn how we at Tomatoes Advertising helped Slido boost activations by conducting a thorough competitive analysis and identifying untapped keywords for their ad campaigns.
Slido, recently acquired by Cisco, is an easy-to-use Q&A and polling platform. It helps people get the most out of meetings and events by bridging the gap between speakers and their audiences.
From internal communications professionals to trainers, team leaders, conference organizers and individual presenters, Slido is used by anyone looking to enable open conversation at a live meeting, whether in-person or virtual.
Percentage of activations acquired with new keywords
Conversion rate of new keywords
(in comparison to original keywords)
In July 2019, our agency took over control of our client's paid campaigns. Despite seeing good results, our client wanted to expand their reach, drive more relevant traffic to their website and acquire more product activations.
Our challenge was to meaningfully invest the client's budget while not decreasing performance and maintaining a reasonable CPA. To achieve this, we focused on analyzing the digital marketing endeavors of our client's competitors, identifying gaps and additional growth opportunities.
To address this challenge, our agency conducted a competitive analysis of the company's top five rivals. We analyzed their websites, paid and organic keywords, ad copy, and landing pages. We used a variety of business intelligence tools and techniques to gather data, including keyword research apps, and manual analysis.
As a result of the competitive research, we were able to identify over 1500 new keywords that Slido was not previously targeting. These keywords were highly relevant to the client's products and services. Our immediate recommendation was to incorporate these queries into Slido's search engine marketing mix.
To minimize the risk of adversely impacting the performance of our client's campaigns, we took a phased approach when implementing the new keywords. Phrases were imported in several batches, monitoring their performance closely and gradually adding more and more keywords over time.
The results were remarkable. The newly identified terms were responsible for approximately 25% of all activations in a year.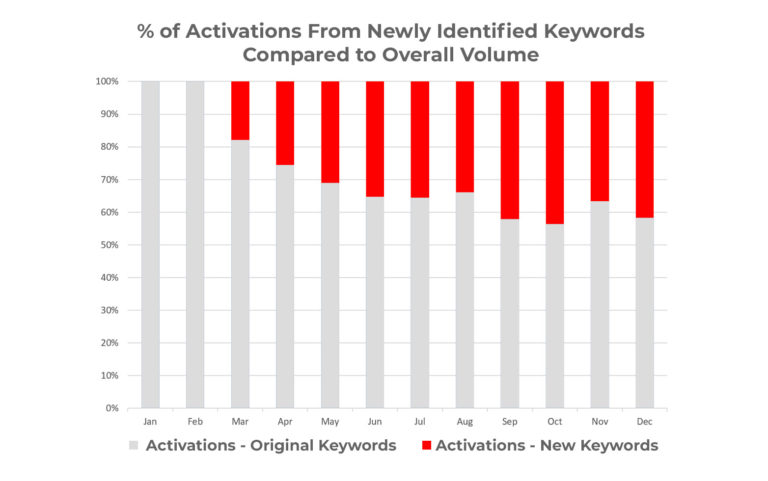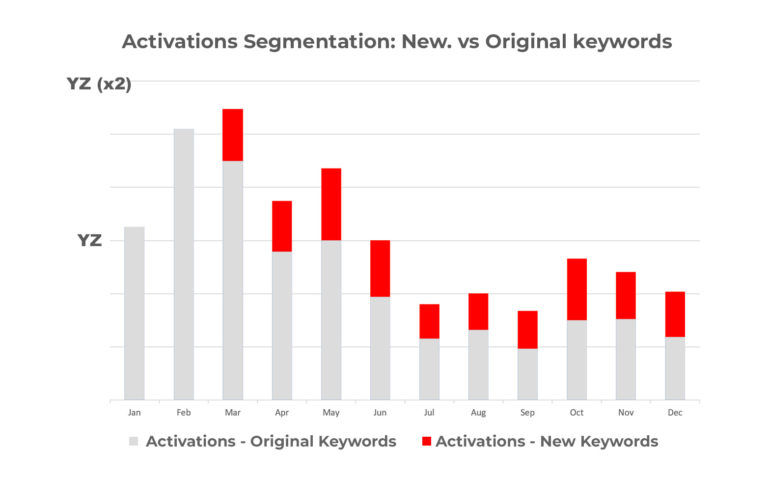 Moreover, these newly identified words had a conversion rate higher by 30% than the original keywords used before the competitive analysis. Additionally, the conversion rate of these new keywords was higher by 25% than the average of all keywords. Even the CPA of these new queries was slightly better than the account average.
By conducting a competitive analysis, we were able to identify a significant number of opportunities for growth. The newly identified keywords were extremely relevant, generated a significant percentage of all product activations, and had a higher conversion rate than the original keywords used before the competitive analysis.
Do you want to see similar outcomes from your online marketing?
Let's talk and find the best digital marketing strategy for you.
Get a free consultation with one of our experts!