Social Media Marketing Agency
Make the most out of your social media accounts. We will help you build trust and brand awareness across
social media networks and propel your growth by advertising on the right platforms.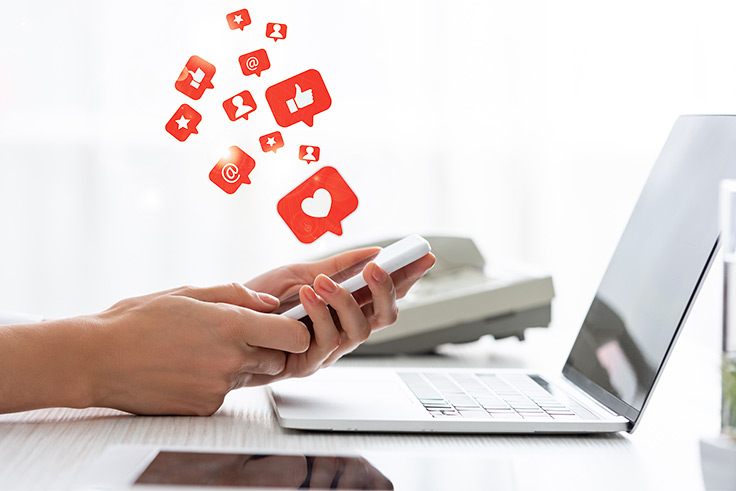 Build relationships and connect with your audience on social networks.
On average, people spend 10% of their day on social networks. Establishing a strong online presence will bring you closer to your target audience.

We will help you design a tailored, data-driven advertising strategy that will increase awareness for your brand and generate demand for your products and services across various social media platforms.
Effective social media accounts rely on delivering consistent, relevant, and engaging content. Rather than selling outright, social media is about building relationships.
Meaningful content for your brand
Elevate your company profiles or connect with your audiences via your internal thought leaders. We'll create a strong content foundation for you.


Consistency is the key
Establish your unique brand voice and communication style across various social media platforms, ensuring a consistent online presence.


Explore different formats
Experiment with text-based, visual, or interactive content to discover what resonates best with your audience across various social media.
Did you know that 53% of the world's population is on social media? Tap into this vast audience, advertise on the right platforms and skyrocket your sales.
Target specific audiences
Tailor your ads for specific groups of people and effectively retarget them later with contextual advertising and special offers.


Boost your conversion rate
With detailed audience targeting for your ad campaigns, you will reach people who are likely to have an interest in what your company offers.


Grow your ROI across all platforms
Audiences are segmented and have diverse needs. We'll help you find synergy to generate more revenue and achieve a higher return on investment.
Maximize your reach across social media channels
We provide complex social media marketing services and consulting along the way.
Our methodology for helping you maximize ROI from your social media is grounded in expert knowledge, partnership, and open communication.





Initial consulting
First, we'll listen to you.
We want to understand your
goals on social media before exploring the opportunities available for your brand.
Detailed audit & analysis
We will dive deep into your
brand and niche to get the full
picture. We'll audit your current
social profiles and analyse
your competitors.
Strategy creation
Driven by data, we'll develop a strategy and budget plan that aligns with your objectives and incorporates the latest trends in social media marketing.
Creation of ads and content
Then, it's time to roll up our sleeves and create engaging content and irresistible ad creatives. We've got you covered on all fronts.
Tracking and Analytics
We will continually monitor the performance of your social ads,
provide reporting on ad spend and track engagement metrics for organic content.
Optimization
Our team will consistently analyze the available data and optimize both ads and organic tactics to ensure optimal performance and results.
Ready to take your social media marketing to the next level?
Let's talk and find the best social media marketing strategy for you.
Get a free consultation with one of our experts!