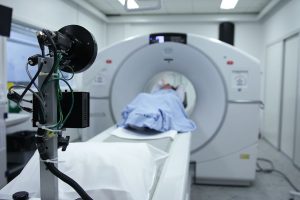 The past few years have seen a monumental shift in marketing. The internet has led to easier access of information as well as the growth of online businesses. Today, people use the internet for everything. So too, patients will find your diagnostic imaging center by searching online
With more patients searching online for healthcare, it is not a surprise that the majority of the emerging healthcare marketing trends are in the digital space.
Below are three Radiology Marketing Ideas every diagnostic imaging center should adopt in 2021.
1. Google Ads
Attract targeted patients
With Google Ads you can design ads to only appear for patients within a certain geographical area. This helps to ensure medical imaging centers aren't spending energy or marketing dollars to advertise to patients that are unlikely to ever make it to your imaging center.
Many people are taking to the internet to manage their health needs and medical imaging centers should be leveraging patient search habits. Almost 5% of the two trillion searches made through Google every year are health related.
Keep tabs on your competitors
Google Ads is based on an auction system where different businesses bid on keywords. Using Google Keyword Planner can help medical imaging centers get keyword ideas for their ads and pages, but it can also help them figure out what their competitors are doing keyword-wise. Utilize the competitor's website URLs and to determine what keywords they're using to ensure that they don't have unique keywords that could be capturing a sect of your prospects that otherwise might be unreached.
More control over your practice's online reputation
Having powerful Google Ads and headlines is important for getting new patients, but they can also be important tools when it comes to controlling the online narrative of your imaging center. Use Google Ads and headlines as ways to communicate positive messages about your medical imaging center.
2. Social Media Marketing
Increased Brand Awareness
Social media is the most cost-efficient part of a marketing plan for a diagnostic center. Implementing a social media strategy will greatly increase your imaging center's recognition since you will be engaging with a broad audience of customers. To get started, create social media profiles for your MRI clinic and begin interacting with your current and potential patients. Get employees, business partners, and sponsors to "like" and "share" your page. Simply having people interact with your content will increase brand awareness and begin building your reputation as a diagnostic medical imaging center. Each post that is shared will be introduced to a new network of individuals, which can lead them to becoming potential patients, and the more people who know about your clinic, the better. There is no doubt that by simply having a social media page your business will benefit, and with regular use it can generate a wide.
Without marketing your business on social media, your medical imaging center is limited to your usual patients. The people familiar with your MRI clinic are likely searching for the same keywords you already rank for. Without utilizing social media as part of your marketing strategy, you'll have much more difficulty reaching anyone outside of your patient circle. Every social media profile you add is a gateway to your website, and every piece of content you post is another opportunity to acquire new patients. Social media has a lot of different types of people with varying backgrounds and behaviors. Syndicating your content on many platforms allows these individuals to organically reach your business. Perhaps someone in an older demographic of consumers will search for your medical imaging center using a particular keyword on Facebook, but a millennial could begin their search by using a different social media platform entirely, because they search for services differently. By marketing on social media you can effectively open your clinic to a wider variety of patients all over the world.
Creating a voice for your diagnostic imaging center through these platforms is important in humanizing your practice. Customers appreciate knowing that when they post comments on your pages, they receive a personalized response rather than an automated message. Being able to acknowledge each comment shows that you are attentive of your visitors' needs and aim to provide the best experience. Every customer interaction on your business's social media accounts is an opportunity to publicly demonstrate your compassion for your customers. Whether an individual has a question or a complaint, social media allows you to address the matter using interpersonal dialogue. A brand devoted to customer satisfaction that takes the time to compose personal messages will inherently be viewed in a positive light, even if responding to a customer complaint.
One of the main goals of all imaging centers should be developing a loyal customer base. Customer satisfaction and brand loyalty go hand in hand, so it is important to regularly engage with consumers and develop a bond with them. Social media is not limited to introducing your medical imaging centers services. Customers see these platforms as a way they can communicate directly with your practice. The millennial generation is known for being the most brand loyal customers. Born between the early 1980's and the early 2000's, millennials are the largest generation in US history. Since these technology natives require communication with their brands, businesses must utilize social media marketing tactics to get the attention of their most influential consumers.
Customer satisfaction and brand loyalty both play a part in making your imaging center business more authoritative. When consumers see your company posting on social media, especially replying to customers and posting original content, you become more credible. Regularly interacting with customers demonstrates that your business cares about its customers and is available to answer any questions that they might have. Satisfied patients are eager to spread the word about a great medical imaging center and they usually turn to social media to express their opinion. Having customers mention your practice on social media will advertise your business, and show new visitors your value and authority. Once you obtain a few satisfied customers who are vocal about their positive experience at your clinic, you can let the advertising be done for you by actual customers who enjoyed their visit at your imaging center.
Gain Marketplace Insights
The most valuable advantage of utilizing social media is marketplace insight. By monitoring the activity on your profiles, you can see customers' interests and opinions that you might otherwise miss you if don't have a social media presence. Using social media as a research tool can help gain information that will aid you in understanding your patients. Once you gain a large following, you can use additional tools to analyze the demographics of your consumers. Another insightful aspect of social media marketing is the ability to segment your content based on topic, and identify which types of content generate the most impressions. These tools give you the ability to measure conversions based on posts on various social media platforms to find the perfect combination for generating revenue.
Posting insightful and well-written content on your social media is a great way to establish community leadership. To establish yourself as a medical community leader, utilize social media platforms and build your online presence. Be communicative, connect with your audience, share content, and promote your authority. When your social media campaign is aligned with other marketing tactics, your skills will be highlighted and followers will look up to you. Being able to directly connect with your customers creates a relationship that they will value, allowing you to become a notable influencer in the radiology field.
3. Data Analytics
Data Analytics helps you determine what makes a good diagnostic medical imaging website for your potential patients and industry—through data. A data driven approach eliminates guesswork and enables you to learn, decide, and execute efficiently. With data analytics to guide you, you can act quickly and with confidence, and free up time to focus on running your practice.
More Insight Into Your Patients
Data Analytics benefits your business by providing more insight into the people who visit your website. You can gather demographic information on visitors such as age, gender, and location. With this information, you can also identify who among your target audience is most likely to convert, and then cater your website content, advertising campaigns, and ad copy for best results.
What Are People Doing On Your Website?
Data Analytics tells you what people are doing once they're on your website, how much time are they spending on your site, and identify a first time or returning visitor, and how much time elapses between visits. You can also follow the path visitors take through your website, their behavior along the way, and see the actions they take before converting into customers. This is the major benefit of Data Analytics, as it allows you to design your campaigns around actions your potential patients are taking, or actions you want your patients to take, and then also measure the performance of those campaigns.
Which Channels are Leading People to your Website?
Data Analytics lets you know which channels are leading people to your website such as social media, emails, or landing pages. You can also see which campaigns are most successful, whether it be the quantity or quality of traffic they bring to your website.
Which Web Pages Get Visited Most Frequently?
Data Analytics page breakdowns can tell you which pages get visited most frequently, which pages lead to conversion, and more. This reveals which information is most relevant to your potential patients, so you can optimize the user experience of your customers. Data Analytics will help you determine what to put on your homepage, how to design your site navigation, and what kind of content to put out on your blog and social media posts.
Data Analytics can look at performance indicators such as page load times, and can identify the operating system, browser, monitor resolution, and internet service provider of users. This information will help ensure that your website works well on popular browsers and devices. It will also help you to provide a positive user experience on every step of your patient's journey—which will often involve multiple devices.
Data Analytics is a powerful tool, and it's important to note that it takes time and practice to become proficient. If you are limited in time or do not feel confident in your use of analytics, there are businesses that can provide this service for you.
Conclusion
Medical imaging marketing is constantly changing, and it's up to you to find new growth opportunities. The key is the ability to read imaging center marketing trends and take advantage of them for your marketing plan.
2021 holds a lot of promise for diagnostic imaging centers that have mastered the art and science of digital marketing.
Following Radiology marketing ideas will prepare your diagnostic imaging center for success in 2021 and beyond.